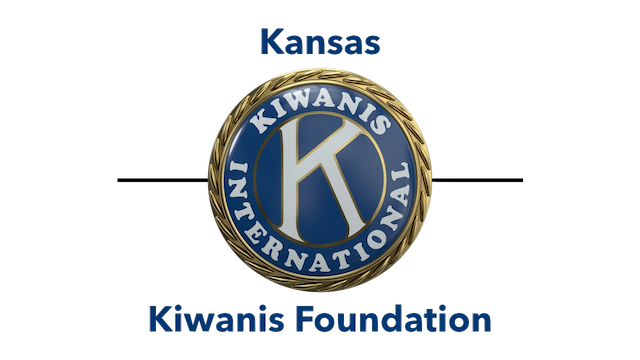 Kansas Kiwanis Foundation Grants
Club Community Project Grants - Each year clubs can apply for a grant to be awarded to a tax-exempt organization for a community project.
If your club has a tax-exempt organization community project they would like assistance in funding, complete and submit the Grant Request Form. The 2023 Grant funding requests must be postmarked by May 15, 2023.
2022 Approved Grants
| Club | Project | Amount |
| --- | --- | --- |
| LAWRENCE | LAWRENCE BOYS AND GIRLS CLUB, INC | $1150.00 |
| EMPORIA | BABY CLOSET | $ 775.00 |
| LYONS | BOOKS FOR SCHOOL LIBRARIES | $ 300.00 |
| KANSAS CITY WEST | COATS, HATS, GLOVES FOR HEAD START | $ 400.00 |
| HAYS | THE ARC OF CENTRAL PLAINS - | $ 850.00 |
|   | handicap accessible baseball fields |   |
| ELLSWORTH | GIRL SCOUT CAMPING EQUIPMENT | $ 525.00 |
|   | Total | $4,000.00 |
2021 Approved Grants
| Club | Project | Amount |
| --- | --- | --- |
| LEAVENWORTH | SCHOOL READING PROGRAM | $880.00 |
| NEWTON | PATIENT LIFT FOR HOME FOR ELDERLY | $670.00 |
| JOHNSON COUNTY | SANDBOXES FOR EARLY EDUCATION | $450.00 |
| LAWRENCE | BOYS AND GIRLS CLUB CENTER | $450.00 |
| TOPEKA | SUMMER DAY CAMP FOR YOUTH | $450.00 |
| ELLSWORTH | AM LEGION/VFW BOY SCOUT CABIN | $400.00 |
| KANSAS CITY WEST | COATS, HATS, GLOVES FOR HEAD START | $400.00 |
| LYONS | BOOKS FOR SCHOOL LIBRARIES | $300.00 |
|   | Total | $4,000.00 |
2020 Approved Grants
| Club | Project | Amount |
| --- | --- | --- |
| PITTSBURG NOON | DON'T MESS WITH METH | $400.00 |
| EMPORIA | FOOD PANTRY | $400.00 |
| PITTSBURG SUNFLOWER | MINERS HALL MUSEUM-PLAYGROUND | $400.00 |
| FORT SCOTT PIONEERS | FRIENDSHIP SWING | $400.00 |
| LAWRENCE | BOYS AND GIRLS CLUB | $400.00 |
| KANSAS CITY WEST | YOUTH CLOTHING | $400.00 |
| TECUMSEH | HERITAGE DAYS | $400.00 |
| LYONS | LIBRARY | $300.00 |
| HAYS | FEED YOUTH | $225.00 |
| HAYS | MEMORIAL PROJECT - SWING | $225.00 |
| GOODLAND | YOUTH SUMMER ACTIVITIES | $225.00 |
| GOODLAND | EASTER EGG | $225.00 |
|   | Total | $4,000.00 |
2019 Approved Grants
| Club | Project | Amount |
| --- | --- | --- |
| LAWRENCE | BOYS AND GIRLS CLUB HONOR BANQUET | $500.00 |
| EMPORIA | FOOD AND HYGIENE PRODUCTS | $500.00 |
| TECUMSEH | EDUCATION FREE DAY FOR KIDS | $500.00 |
| PITTSBURG SUNFLOWER | BOOK TO ENCOURGE READING | $400.00 |
| NORTON | PLAYGROUND FOR HEAD START | $500.00 |
| COLBY | COMPUTERS PIONEER MEMORIAL LIBRARY | $500.00 |
| CHANUTE | UPDATE CAFETERIA AT NEOSHO CC | $400.00 |
| KANSAS CITY WEST | COATS FOR KIDS | $400.00 |
| LYONS | LIBRARY BOOKS | $300.00 |
|   | Total | $4,000.00 |
2018 Approved Grants
| Club | Project | Amount |
| --- | --- | --- |
| HUTCHINSON | STATE FAIR EXHIBIT FOR DISABLED | $300.00 |
| McPHERSON | BACK TO SCHOOL SHOE | $300.00 |
| TECUMSEH | EDUCATION FREE DAY FOR KIDS | $300.00 |
| GIL CARTER INITIATIVE | CHILDHOOD OBESITY | $500.00 |
| CAMP ALEXANDER | UPKEEP OF CAMP FACILITIES | $500.00 |
| LAWRENCE | HONORS DINNER | $500.00 |
| WAMEGO | COLUMBIA THEATRE | $500.00 |
| KANSAS CITY WEST | COATS FOR KIDS | $300.00 |
| PITTSBURG SUNFLOWER | EDUCATION PAVILION AT MUSEUM | $500.00 |
| LYONS | LIBRARY BOOKS | $300.00 |
|   | Total | $4,000.00 |
2017 Approved Grants
| Club | Project | Amount |
| --- | --- | --- |
| Chanute | Bench at Neosho CC | $500.00 |
| Goodland | 4-H | $500.00 |
| Lyons | USD 405 Libraries | $300.00 |
| Emporia | ESU Food Pantry | $500.00 |
| Lawrence | Honors Dinner | $500.00 |
| Kansas City West | Back PAcks, Cribs, Coats | $400.00 |
| Wamego | Summer / Winter Theater | $500.00 |
| Hutchinson | Art Exhibit State Fair | $500.00 |
| Johnson County | Heritage School Playground | $300.00 |
|   | Total | $4,000.00 |
2016 Approved Grants
| Club | Project | Amount |
| --- | --- | --- |
| Pratt | Reading Program | $500.00 |
| Lyons | Library Books | $300.00 |
| Pittsburg | Kiwanis Park | $500.00 |
| Ellsworth | Boys Scout Cabin | $350.00 |
| Hutchinson | Backpack Project | $500.00 |
| Manhattan - Solar | Drinking Fountains in Parks | $300.00 |
| Thomas County - Colby | Villa Hi Park | $500.00 |
| KC West | Shoes for Homeless Children | $500.00 |
| Lindsburg | Get Set For School | $550.00 |
|   | Total | $4,000.00 |
2015 Approved Grants
| Club | Project | Amount |
| --- | --- | --- |
| Abilene | Flag Project | $450.00 |
| Ellsworth | Boys & Girl Scout Insurance Assistance | $425.00 |
| KC West | Hygiene Kits | $450.00 |
| Lyons | Library Books | $300.00 |
| Pratt | Classroom support for 3 - 5 yr olds | $450.00 |
| Tecumseh / Shawnee Heights | Replace Shelter | $425.00 |
|   | Total | $2,500.00 |
2014 Approved Grants
| Club | Project | Amount |
| --- | --- | --- |
| Ellsworth | Update windows & doors in Scout cabin | $500.00 |
| Junction City South | Coronado Park Basketball court | $400.00 |
| KC West | Homeless children school supplies | $500.00 |
| Lyons | Library Books | $300.00 |
| Topeka Downtown | Video game consoles for pediatric & young adults - Stormont Vail | $500.00 |
| Tecumseh / Shawnee Heights | 2nd picnic table | $650.00 |
|   | Total | $2,850.00 |
2013 Approved Grants
| Club | Project | Amount |
| --- | --- | --- |
| Ellsworth | Update Scout Equipment | $500.00 |
| Hutchinson | Art Exhibits at State Fair | $300.00 |
| Larned | Summer Reading Program | $400.00 |
| Lyons | Library Books | $300.00 |
| Hays | Family Fun Day | $500.00 |
| Tecumseh | Picnic Tables | $500.00 |
|   | Total | $2,500.00 |
2012 Approved Grants
| Club | Project | Amount |
| --- | --- | --- |
| Iola | 2 Parks in Iola | $500.00 |
| Emporia | Read to Your Bunny Program | $500.00 |
| Kansas City West | Bike Safety Rodeo | $400.00 |
| Pratt | Reading Big Books K-5 | $300.00 |
| Lyons | Books for School Library | $300.00 |
| Ellsworth | Boy Scout Cabin | $500.00 |
|   | Total | $2,500.00 |